Invisik Network Care
Investment-worthy IT management services and computer network maintenance for businesses in and around the Twin Cities and surrounding areas.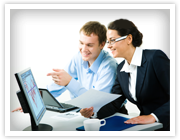 "Why is reliable IT Support so darn expensive?!"
Sound like something you may have said? If maintaining your technology feels like it's costing you more than it's worth, then invisik has the solution you've been looking for!
We combine the best practices of managed services and pay-as-you-go environments to provide the most predictable and cost-effective solution possible to support your IT network.
Invisik Network Care means you can rely on us to:
Keep your business and your budget in mind - so you won't feel pressured to buy or use technology that you don't want.
Provide proactive computer support of your systems - deterring network and security issues before they become expensive problems like downtime and data loss.
Stand behind every IT Consulting recommendation we make - by unconditionally guaranteeing them 100%.
Our flat-rate support plans mean you can stop focusing on how much your IT is going to cost, and focus on your business instead.
invisik provides the technology you need to simplify your budget and get ahead of the competition. Serving companies in the Twin Cities and surrounding areas, our staff of experts can design a customized computer network maintenance and IT Management solution that works for you.
If your business is in need of network management, computer network installation, IT management services, computer network maintenance services, network consulting and integration services, network and server support, computer server management service, wireless networking, on-site & remote support, or IT support consulting - we can handle it!
When you relieve the stress of technology-related costs, you can focus on more important things. When you have a dependable partner maintaining your computer network, you can get back to running your business.