Security
Complete computer data security and network security services for companies throughout The Twin Cities and Surrounding Areas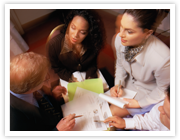 Does the Threat of Computer Viruses, Hackers and Malware Constantly Get in the Way of Doing Business?
"If a staff member lost one of our laptop computers or flash drives, our business's security would definitely be compromised." This is a real threat to businesses today.
With Computer Data Security and Virus Removal that covers every aspect of your company, you can finally concentrate on your business, instead of your network. Our Network and Data Security solutions, along with virus removal, malware and spam protection services are the answer to your security concerns in Minneapolis, St. Paul, Bloomington, Eden Prairie, Edina and Plymouth.
With a tailor-made security architecture from Invisik, you can expect:
Enhanced productivity - with data security management solutions that won't let computer issues interrupt your business.
Hacker prevention - with comprehensive and reliable network security.
A partner in security - working as an extension of your business to create top-of-the-line solutions.
With security that's created to protect you from all of today's online threats, you can stop worrying about the safety of your business and spend more time growing your company.
Invisik Corporation has the experience and creative thinking you can depend on for holistic security solutions that protect every aspect of your company. Offering businesses in The Twin Cities and Surrounding Areas Wireless Network Security solutions that can give you the peace of mind to stop worrying about security and get back to business as usual.
If your business needs help for data security management, Internet security, network and data security, PC protection, spyware protection, computer data security, wireless network security, or virus removal-
we'll take care of everything!
If your staff is online, your organization is already in harm's way. Get our Computer Data Security and Virus Removal solutions quickly, before a predator finds his way into your network.