Backup & Disaster Recovery Solutions
Seamless data backup and disaster recovery to protect your business in the Twin Cities and surrounding areas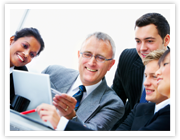 "Is my current data backup solution really protecting me from everything that could go wrong?"
Do you stress over thoughts like this? If worries about defending your business from disasters and accidents consume your every thought, then you are ready for Invisik's Backup and Disaster Recovery Solutions.
Invisik provides reliable Computer Hard Drive Backup and Disaster Recovery to businesses that want to secure themselves from the unforeseeable in the Twin Cities and surrounding areas.
Restore server operations in less than an hour with our NAS-based superior backup and disaster recovery solution. Our BDR units match your business needs and fit within your budget. With their fast virtualization capabilities, our systems can be configured to function as a replacement server if needed. This unique device can also replace management-intensive, error-prone tape backups while still providing so much more.
With Invisik as your partner in Business Continuity Planning and Disaster Recovery Solutions, we'll help you:
Continue working as usual - with solutions for Data Backup should an accident or disaster occur.
Fortify your data and your business - we safeguard your entire system by providing Back Up and Recovery that covers all the bases.
Stop worrying about accidents and disasters you can't control - because we'll deal with all your Business Continuity requirements.
Rid your mind of constant worry over what might happen with our Business Continuity Planning expertise.
Invisik offers the experience and innovative strategies you can count on to ensure your business is safe from all that's out there. Serving Minneapolis, St. Paul, Bloomington, Eden Prairie, Edina and Plymouth, we offer solutions for data backup and computer hard drive backup that ensure your future will be as bright as your past.
If your company needs Disaster Recovery and Business Continuity Planning, Online Backup, Hard Drive and Data Backup, Offsite Data Backup & Recovery Services, Computer Backup, Virtual Data Recovery, Hard Drive and File Data Recovery, Computer Recovery, or Remote Data Backup - give us a call!
Don't let one accident or disaster doom the future of your business. Get a Disaster Recovery and Data Backup solution that will allow you to stay on track, no matter what comes your way.