IT Consulting
Invisik has IT Consulting down to a science for growing business in The Twin Cities and Surrounding Areas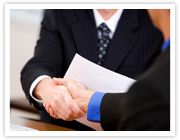 "Why am I paying all this money for IT that's always broken?"
Sound like something you've said? If you have been feeling like the IT side of your business is nothing more than a money pit, then you are ready for IT Consulting solutions from Invisik.
Invisik Corporation has a Virtual CIO (Chief Information Officer) service that can simplify your business and your budget in Minneapolis, St. Paul, Bloomington, Eden Prairie, Edina and Plymouth.
We can create a specialized IT plan for your business, including:
A long-term investment you can count on - with expert Technology Planning for your unique business needs.
Complete solutions based on flat fees - including your Technology Installation.
Service and support from A to Z - with IT Administration that maximizes your uptime and profitability.
Get the most out of your IT investment, with IT Consulting that can point you in the right direction.
As your Virtual CIO, Invisik acts as an extension of your business, saving you time and money in the long run. Serving The Twin Cities and Surrounding Areas, we provide IT Consulting Services that let you capitalize on more opportunities.
If your business could benefit from technology consultation, Virtual CIO (Chief Information Officer) services, IT services, IT consulting services, computer security consulting, or network consulting for small businesses - we've got solutions!
Advanced technology doesn't have to be expensive. With recommendations from an Invisik IT Consultant, you know you've made a good investment in technology.