IT Consulting Services
Economical IT Help and Computer PC Repair on your terms, throughout The Twin Cities and Surrounding Areas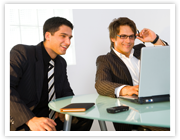 "Why can't I get computer software help that's both affordable AND reliable?"
Does this sound like you? There is no need to go into a state of panic when something goes wrong with your computers.
Invisik provides expert computer PC repair and IT help at a price you can easily afford in Minneapolis, St. Paul, Bloomington, Eden Prairie, Edina and Plymouth.
With Invisik Corporation as your IT partner, you can expect:
Budget-friendly support - by using the pay-as-you-go fee structure for your IT help.
The comfort of having your very own IT staff - so you don't have to worry about hiring a full-time Technology Support employee.
Rapid attention to your IT problems - getting you back on track sooner when there's an issue with your IT.
Computer Help & IT Support Services lets you depend on your technology, even when the inevitable occurs.
Invisik provides expert IT support and computer repair only when you need it, so you can enjoy the benefits of advanced technology without worry. Serving Minneapolis, St. Paul, Bloomington, Eden Prairie, Edina and Plymouth, our computer software help can bring greater efficiency and profitability to your business.
If your organization requires PC tech support help online, computer diagnostics, remote PC repair, software help, computer repair services, software help, online computer support, computer help, computer and technology support, fix computer problems, or PC help & IT Help - we have the answers for it all!
Tired of wasting valuable time looking for the right IT company? Get a better solution, with affordable IT help that's there when you need it.